Fabulous Flavors and Friends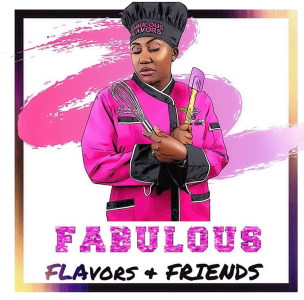 Fabulous Flavors FRIENDS Diner In Restaurant
The Best In Memphis "Whitehaven Finest Eatery", at Fabulous Flavors & Friends we offer a variety of options and flavors such as chicken & waffles, monster burger, Big Mama's Famous Peach Cobbler, omelettes, wings, fries and so much more! You can find us on Brooks Rd and Directors Row, near Memphis International Airport. Order Online for carryout today!
*Cuisines*
American Chicken Hamburgers Wings
Food Types
Comfort Food
STORY:
Mrs. Precious Thompson Jones is the founder and chef of Fabulous Flavors and Friends. Born on the westside of Chicago, IL where she used to watch her grandparents cook delicious home cooked meals and operate a candy & snow ball stand. She moved to Memphis, TN at the age of 13 because her mother wanted a better life for Precious and her brother. Surviving the streets of Memphis had its ups and downs for Precious.
She graduated from Whitehaven Highschool in 2000 and had scholarships to further her education in college but became a felon. When released Precious didn't give up hope, her hustle mindset landed her job offers at several fast food restaurants to be a waitress. Later, she got the opportunity to join the 2nd Chance, Habitat and Rise program where it helped her get a better job with benefits and housing.
She met her husband Lonnie Jones in 2012, he motivated her to go back to school because she got tired of working at her job plus had a dream to run her own business.
Precious enrolled in Lecole Culinary School which helped her tighten up her cooking skills. In 2014, she graduated and was a chef for Memphis grizzlies for a while. But then she got married, had a baby and also started a side hustle by hosting events with cartoon characters, bouncy houses and snacks.
While still working at her job at St. Jude Hospital, she bought a used food truck. Her husband Lonnie turned it into her dream truck within 2 years with his renovation skills. In 2017, she finally decided to step out on faith and decided to open up her food truck.
Today, Precious has contracts with major companies like St Jude, Fed Ex, Lebonar and others. Precious and her team also host events around the city with their cartoon characters, bouncy houses and snacks service. She educated herself to the point where she now offers Food truck Pro classes for anyone who wants to join the industry.
The highlight of Mrs. Jones journey is she now owns her own waffle house styled restaurant near Memphis airport and Greyhound bus station. Dreams do come true, so don't give up!!
Food & Beverages, Food & Beverages - Restaurant